Let's start by saying that I love chocolate.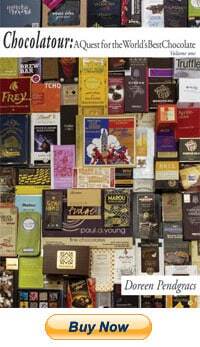 A fellow blogger, Doreen Pendgracs, in addition to writing a blog, Chocolate Travel Diversions, has written a delicious book all about chocolate, Chocolatour: A Quest for the World's Best Chocolate.
The book reads like a journal of Doreen's travels through the chocolate growing and chocolate producing regions of the world; from  the cacao growing regions of Peru, Ecuador and the eastern Carribean to the chocolate producing centers in Europe.  Volume II of her book will focus on great chocolate in the Americas and the Caribbean, and Volume III will include the rest of the world.  I learned a lot about how cacao is grown and made into chocolate and subtle differences in chocolate.
The one section of the book that I really could sink my teeth into (sorry), and the one I want to share here is the section that talks about the many health benefits of chocolate.  First of all did you know that chocogasm is a real word?  As defined by the Urban Dictionary chocogasm is defined as:
eating high quality chocolate and experiencing bliss like states of choc-erotic pleasure
According to Debra Waterhouse, M.P.H.,  RD., It turns out that women crave chocolate because we need it "to feel content with our lives, satisfied in our jobs, and able to accept and fulfill and the duties and responsibilities we have in our daily routines"!  It is not only OK to eat chocolate, but we need it!  Of course we are talking about pure (at least 70%) dark chocolate, not chocolate candy…
I learned that pure chocolate contains 380 chemicals including a neurotransmitter similar to THC (cannabis).  Chocolate also encourages our bodies to produce serotonin, and releases endorphins in our bodies — natural anti depressants!
Eating dark chocolate increases the nitric oxide level in our body, increasing blood flow and improving stamina and the body's ability to recover, and so a little dark chocolate before and after exercise is beneficial!
Another compound in dark chocolate, epicatechin, improves heart health.  The flavonols found in dark chocolate are powerful antioxidants, and may improve our health, enhance circulation, joint function, brain function, lower blood pressure, lower inflammation as well as reduce our risk of Alzheimers, dementia and heart disease, may be good for our vision, and natural fluoride found in cocoa may also make it good for our teeth!
But it is these compounds (flavonoids) in dark chocolate that also make it bitter,  reducing the bitterness also reduces the healthy properties, and so these health benefits are not found in milk chocolate or white chocolate.   Actually white chocolate only contains cocoa butter and sugar and so it isn't truly chocolate!
And so, to start your chocolate journey and to read more about how chocolate is made, its health benefits and take a virtual tour of the chocolate producing centers in Europe, I recommend Doreen's book, Chocolatour: A Quest for the World's Best Chocolate!